Mô tả
DS-2CD2120F-I(W)(S)
2MP Fixed Dome Network Camera
2MP 1/2.8'' Progressive scan CMOS

Support dual streams

Up to 30 meters IR range

-S: Two-way audio

-S: Audio/Alarm I/O

-W: Support Wi-Fi

IR cut filter with auto switch

DC12V & PoE

Built-in Micro SD/SDHC/SDXC card slot, up to 128 GB

Ingress Protection level: IP67 (sử dụng được ngoài trời)

IK10

DS-2CD2120F-I: Loại cơ bản

DS-2CD2120F-IWS: Có Wifi; Có cổng Audio IN/OUT; Có cổng Báo động IN/OUT.
Camera
Image Sensor:
|
1/2.8" Progressive Scan CMOS
Signal System:
|
PAL/NTSC
Min. Illumination:
|
0.01Lux @ (F1.2, AGC ON) ,0 Lux with IR
0.028 Lux @ (F2.0, AGC ON) ,0 Lux with IR

Shutter time:
|
1/3 s to 1/100,000 s
Lens:
|
4mm@ F2.0 (2.8mm, 6mm optional)
Lens Mount:
|
M12
Adjustment Range:
|
Pan:0° - 355°, Tilt: 0° - 75°, Rotation: 0-355°
Day& Night:
|
IR cut filter with auto switch
Wide Dynamic Range:
|
Digital WDR
Digital noise reduction:
|
3D DNR
Compression Standard
Video Compression:
|
H.264/MJPEG
H.264 code profile:
|
Main Profile
Video bit rate:
|
32Kbps~8Mbps
Audio Compression:
|
G.711/G.722.1/G.726/MP2L2
Audio bit rate:
|
64Kbps(G.711) /16Kbps(G.722.1)/16Kbps(G.726) /32-128Kbps(MP2L2)
Dual Stream:
|
Yes
Image
Max. Image Resolution:
|
1920 x 1080
Frame Rate:
|
50Hz: 25fps(1920 × 1080), 25fps (1280 × 960), 25fps (1280 × 720)
60Hz: 30fps(1920 × 1080), 30fps (1280 × 960), 30fps (1280 × 720)

Image Settings:
|
Rotate mode, Saturation, Brightness, Contrast adjustable by client software or web browser
BLC:
|
Yes, zone configurable
ROI:
|
support
3D DNR:
|
support
Network
Network Storage:
|
Built-in Micro SD/SDHC/SDXC slot, up to 128G, NAS(NFS, SMB/CIFS)
Alarm Trigger:
|
Line Crossing, Intrusion Detection, Motion detection, Dynamic analysis, Tampering alarm, Network disconnect , IP address conflict, Storage exception
Protocols:
|
TCP/IP,ICMP,HTTP,HTTPS,FTP,DHCP,DNS,DDNS,RTP,RTSP,RTCP,
NTP,UPnP,SMTP,IGMP,802.1X,QoS,IPv6,Bonjour

General Function:
|
User Authentication, Watermark, IP address filtering, anonymous access, flickerless, heartbeat, video mask
System Compatibility:
|
ONVIF, PSIA, CGI, ISAPI
Interface
Audio:
|
1-ch audio in, Mic in/Line in;
1-ch audio out
Communication Interface:
|
1 RJ45 10M / 100M Ethernet interface
Alarm:
|
1 alarm I/O
Alarm Input:
|
1
Alarm Output:
|
1
Wi-Fi Specification (-W)
Wireless Standards:
|
IEEE802.11b, 802.11g, 802.11n
Frequency Range:
|
2.4 GHz ~ 2.4835 GHz
Channel Bandwidth:
|
20/40MHz Support
Security:
|
64/128-bit WEP, WPA/WPA2, WPA-PSK/WPA2-PSK, WPS
Transmission Rate:
|
11b: 11Mbps
11g: 54Mbps
11n: up to 150Mbps
Wireless Range:
|
50m(depend on environment)
Protocols:
|
802.11b: CCK, QPSK, BPSK
802.11g/n: OFDM

General
Operating Conditions:
|
-30 °C ~ 60 °C (-22 °F ~ 140 °F)
Humidity 95% or less (non-condensing)
Power Supply:
|
12 V DC ± 10%, PoE (802.3at)
Power Consumption:
|
Max. 5.3W
Impact Protection:
|
IEC60068-2-75Eh, 50J; EN50102, IK10
Weather Proof:
|
IP67
IR Range:
|
Up to 30m
Dimensions:
|
Φ111 × 82 (4.4" × 3.2")
Weight:
|
500g (1.1 lb)
Video thực tế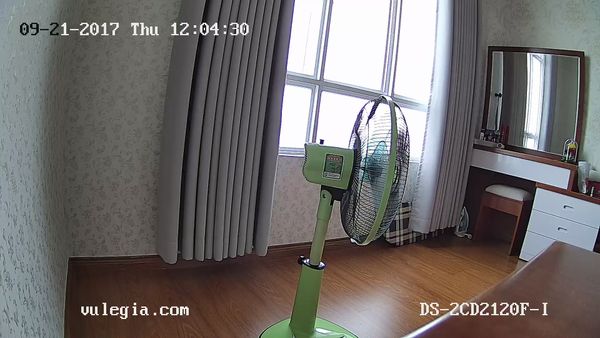 Khả năng xử lý ngược sáng cực mạnh, ánh sáng ngoài trời nắng gắt, nhưng giấy nhãn dán trên quạt vẫn nhìn rõ kỹ hiệu 5 sao, hoa văn giấy dán tường bên trái rèm cửa sáng rõ. Các camera giá rẻ sẽ không làm được điều này.
Khui hộp, đây là model "DS-2CD2120F-I" nên sẽ không có wifi và không có cổng Audio và báo động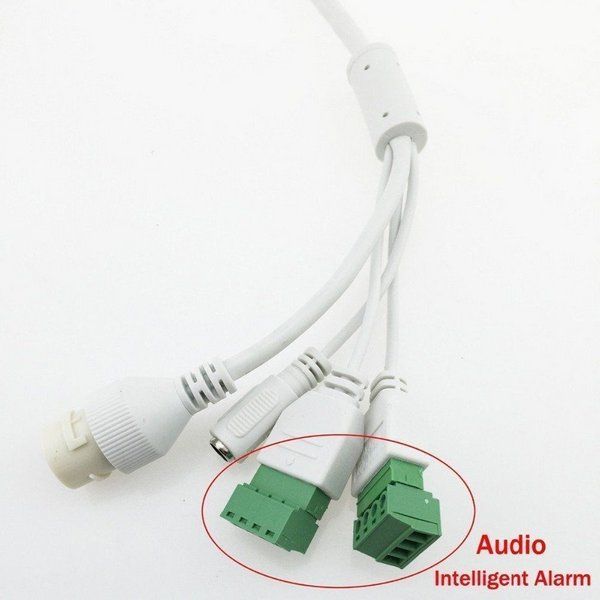 2 cổng Audio và Alarm này chỉ có trên model DS-2CD2120F-IWS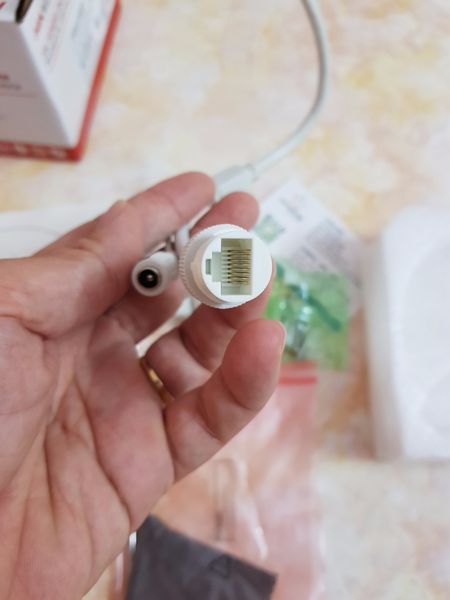 Cổng nguồn 12V và cổng LAN RJ-45, cổng LAN này hỗ trợ luôn PoE
Dòng bán cầu khi lắp đặt, buộc phải tháo nắp, dự dụng vít lục giác (đi kèm) tháo 3 ốc ra. Để an toàn, Hikvision sử dụng dây giữ nắp với camera, tránh bị rớt dễ bể kính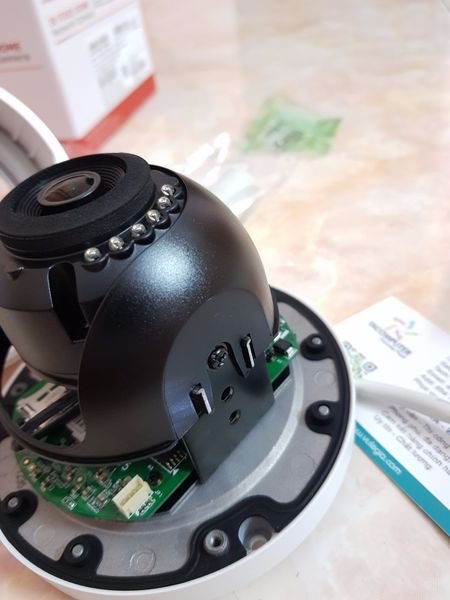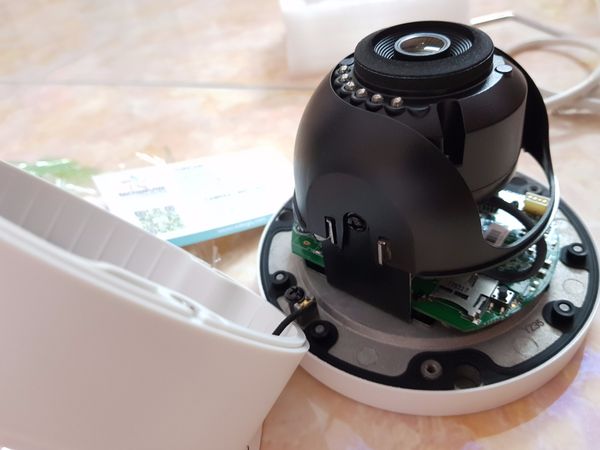 Ốc 2 bên dùng để điều chỉnh camera lên xuống. Sau khi canh chuẩn, hãy xiết ốc lại cố định hướng nhìn camera
Bên dưới là khe gắn thẻ nhớ microSD và nút reset. Khuyến cáo nên dùng thẻ nhớ tại đây: http://vulegia.com/collections/sandisk/products/sandisk-ultra-microsd-uhs-i-card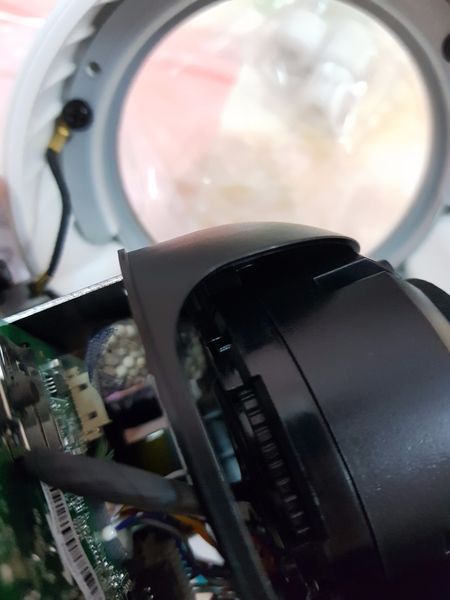 Bánh răng dùng điều chính hướng qua lại.
Tổng quan sau khi tháo nắp
Phụ kiện đầy đủ.